Godfrey Nzamujo, O.P.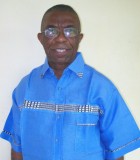 Father Godfrey Nzamujo, O.P. was born in Kano, Nigeria in 1950. He achieved several
degrees including:
B.A. in Modern Philosophy and Mathematics,
M.A. in Theology (Creation-Centered/Evolution Option)
Higher Diploma in Systems Engineering
M.S. in Electrical Engineering at Loyola Marymount University, Los Angeles, California,
Ph.D. in Electrical Engineering and Computer Service from the University of California at Irvine
Ph.D. in Management Science at the International Institute for Advanced Studies
Ph.D. in Economic Philosophy
Father Nzamujo is the Founder and Director of the Songhai Regional Centre, established in
1985 and headquarted in Porto-Novo, Republic of Benin. He has also been a Research
Fellow/Professor at the University of California, Irvine, Associate Pastor, St Nicholas
Catholic Church, Laguna Hills, California, and Associate Professor of Engineering at Loyola
Marymount University, Los Angeles, California.
He has expertise in various fields including:
Engineering: electro-optical devices, digital systems-micro-electronics, microcomputer systems, discrete Mathematics and Symbolic Logic and digital image processing.
Biological Sciences: ecology and microbiology, microbiology and soil fertilization, natural systems and energy pathway in water sub-systems, and mycology and its usefulness in African ecosystems - economic perspectives, Mushroom-laboratory culture and production. Special interest of Ramial Whipped Wood (RCW) as a sustainable soil "aggradation" system.
Development: integrated systems and tropical farming systems- their socio-economic perspectives and institutional economics-social engineering in post colonial Africa.
His expertise in Spirituality includes its relevance in psychological and social development.
Father Nzamujo's present research and development interests include: sustainable agriculture in the tropics and the corresponding institutional framework, renewable energy - biogas, biofuels, rural energy development, microbiology and soil fertilization - Bacillus Lateresporus and Rhyzobia-moisture - microbiological environment and nutritive elements in integrated soil fertility management, energy pathway in water bodies-mining nutrient-energy sinks in urban and peri urban waste water bodies.
He was conferred many honors and awards including membership of the U.N. Independent
Commission on "Africa and the Challenges for the Third Millennium", Honorary Doctorate
of The Pontifical University of St. Thomas Aquinas - Angelicum University, Rome, the
Africa Prize for Leadership for the Sustainable End of Hunger (co-winner with President
Rawlings of Ghana), Jesuit Honors Award, the Engineering Honors Award (California), UN
South-South Cooperation best practices prize, Special Achievement Award in Agricultural Entrepreneurship by the United Nations Industrial Development Organization (UNIDO).